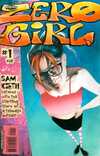 View pictures of their covers




Sales Rank #6,874 See Top 2,500
Publisher DC Homage • Super-hero Female-hero
First Issue #1 - February 2001 Last #5 - June 2001
Continued in Zero Girl: Full Circle

Zero Girl comic books were written and illustrated by Sam Kieth. The plot features high school student Amy Smootster, and her attempts to start a relationship with her guidance counselor Tim. Another plot thread follows her relationship with circles and squares---it seems that circular objects tend to help or defend her, while squares try to hurt her.